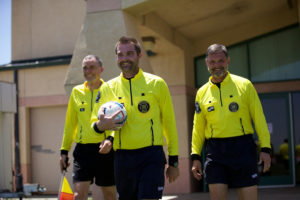 Fall season games resume this Saturday 9/11.  We still have 26 games on Sat with no referees signed-up.  Team referees, where are you?  Let's not let the kids down, they are counting on your support.
We will have another equipment distribution from our storage container near Boatwright field 3 on Friday 9/10 between 6:30pm and 7:30pm.  If you are a new referee and have completed all the required training, or a returning referee that needs equipment, please stop by and we will get you all set before the weekend.
If you are a new referee and have not completed your training, PHMSA will host the last scheduled Regional Referee Companion Course from 1pm -4pm on Sunday, 9/12.  This may be your last opportunity to complete your regional referee training locally.  Sign up for the class on AYSOU.  Coaches, please nudge those parents who volunteered to referee and have not started or completed their training.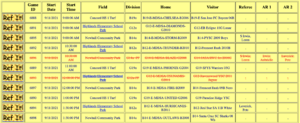 This weekend is also the opening weekend for our Elite teams competing in Cal North.  The referee scheduling for these games is through Refscheduler and are currently listed under Heritage Soccer Club.  Lots of openings as of today.  Throughout Northern CA, there continues to be a shortage of referees to cover games.  If you are an Elite team referee, you should bring your gear to every game and be prepared to step in and fill open positions.  You can sign up for Elite games by completing a profile on refscheduler.net.  Select USSF > CA-N > District 4 > HSC – MDSA Elite Soccer.
Cal North would like neutral USSF referees serving as center referees, but there will be times when that is not possible.  If you are a parent of a player on the team, you must advise the opposing team and get their approval for you to center referee the game.  If you do not have current USSF Grassroots (or higher) certification, you can still sign up on refscheduler to support our Elite teams if you are experienced and comfortable working at that level of competition.  In all cases, if you work a game, you must have a refscheduler profile to receive payment.  Please sign up, just in case you are called to duty at the last minute.
Lots of soccer out there this weekend.  Grab your gear, a couple of water bottles and spend some time on the pitch with the kids.
As always please ensure games are safe, fair and fun for everyone – players, coaches, spectators and referees!
Thanks!
Tom Semple
Head of Referees