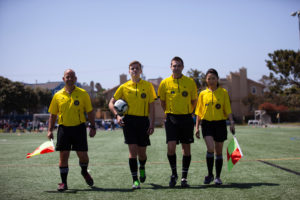 The kick off of the Fall soccer season brings with it some major changes to the laws of soccer, these changes are relevant for both recreational and competitive programs at MDSA.
Not all of these will affect every youth soccer game you watch or play  but it is advised to make yourself aware of all the changes.
A comprehensive guide of the rules can be found here, and below is a summary of the most relevant for youth soccer.
Key Soccer Rule Changes
Goal Kicks no longer need to leave the penalty area to be in play.

As soon as the ball is kicked it is in play and opponents may enter the penalty area.

The team that wins the toss may choose to take the kick-off or which end to attack.
Coaches and team officials can now be shown a yellow or red card, just like players.
Opponents must be at least 2 yards from the point on the touchline for a throw-in.
Dropped ball – ball dropped for goalkeeper (if play stopped in penalty area) or, for player on team that last touched the ball at the location of the last touch; all other players must be at least 4.5 yards away