ELITE REGISTRATION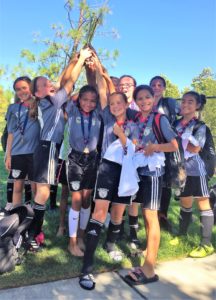 Mt. Diablo Soccer conduct Elite tryouts prior to the beginning of the Elite season to allow the Selection Committee to evaluate players. The tryouts are open to all players who wish to participate in a competitive Elite team.  It is not a prerequisite to have played on an MDSA Fall team in order to try out for one of our Elite teams. Tryouts are held in April or May.
Experienced and established coaches from MDSA, other AYSO regions and/or Club Soccer interested in coaching Elite teams are encouraged to apply. Email elite@mdsoccer.org for more information.
FAQs



Q: What are the fees for Mt Diablo Soccer Elite Program?
Answer: Fees for the entire season are only $490 per player, which covers two league seasons (fall and spring), home fields, practice fields (two per week), referees and one tournament entry (CalNorth State or Junior Cup).
Uniforms and tournaments are an additional cost.  We usually change our uniforms every two seasons and a complete set of two Adidas uniforms costs about $180.  Tournaments differ for every team but team can expect to pay between $150 and $300 per season.
Q: If my child makes an Elite team, do I need to register my child for the primary Fall season in addition to the Elite season?
Answer: No, the Elite program allows players to concentrate on the Elite team without having to play in the Fall season.

Q: If my child makes an Elite team and they also want to play in the primary Fall season, is this allowed?
Answer: Yes.  However, this is not required or expected as part of the Elite program.  Your child is allowed to play on both the Elite and the primary Fall ("House") seasons at the same time.  Please be aware that scheduling accommodations between Elite and Fall games will not be made as in prior years when players were expected to participate in both programs.
Q: Can Select players apply to Elite?
Answer: Yes! Select players wanting to participate year-round in a more competitive environment are encouraged to try out for Elite. Should a Select player be picked for an Elite team, that player's primary responsibility is to his/her Select team until the Select season concludes. Once the Select season is over, that player can then move full time to the Elite team.
Q: I already signed up my child for the Fall season. Can I still try out for Elite and what happens to the Fall fee that I already paid?
Answer: Yes!  We encourage all players that wish to play in a more competitive team to try out for Elite. If your child makes the Elite team, the fee that you paid for the Fall league will be applied towards the Elite fee.
Q: What tournaments can Elite teams participate in?
Answer: Elite teams can participate in AYSO Open tournaments, US Club tournaments, and CYSA tournaments that accept US Club cards or AYSO player passes. Some AYSO Select tournaments have open flights that allow participation of Elite teams.
Q: I cannot make the tryout date/time.  How does that affect my child's chances of getting on an Elite team?
Answer: The league would like to see prospective players participating in as many of the tryouts as possible. Attending Elite tryouts, while not mandatory, is strongly encouraged to give players the best opportunity to show the evaluating coaches their skills. Players may also be observed by evaluators in game situations with their Fall team or Select team.
Q: Can my child attend more than one tryout date?
Answer: Absolutely!  You child is indeed encouraged to attend as many tryouts as offered.
Q: What days of the week will Elite matches be played?
Answer: Elite matches will typically be played on the weekend, either Saturday or Sunday. Your coach may schedule some scrimmages during the week.
Q: What are the differences between the Select Program and the Elite Program?
Answer: The Select program is designed for AYSO players that played during the AYSO Fall season. Select teams start training in December and compete against other AYSO Select teams from January through May. The Elite program is open to all competitive players, including players that may not have participated in an AYSO program the prior year. MDSA Elite teams are essentially "year round" teams, formed soon after Elite tryouts, and ending with the Fall BAFSL season. Elite teams play against other AYSO Elite teams, as well as CYSA and US Club teams. Elite teams typically participate in a competitive Spring league and a competitive Fall league, as well as tournaments, with some breaks from training and competition during the Summer and Winter.
Q: Can I coach a team for the Elite season?
Answer: Coaching for Elite is a significant time commitment and we appreciate any AYSO coach willing to volunteer his or her time through this advanced program. Only experienced coaches with the required advanced certifications will be considered for Elite teams. If you're interested, please fill out the application by clicking the Elite Coach Application button and submitting an application by January 20th for teams that are U15 and younger and by March 1st for teams that are U16 and older. The Elite Committee will evaluate all candidates and inform the volunteers selected before the start of the Elite season.
Q: What are the required certifications to be an Elite coach?
Answer: Elite coaches need to be certified one level higher than is required for the primary Fall season for the team's age division. For example, a U10 Elite coach needs to be U12 certified; a U12 Elite coach needs to be a certified Intermediate Coach; U14, U16 and U19 coaches need to hold an Advanced Coach Certification.
AGE GUIDE FOR 2019-2020 ELITE PROGRAM
| YEAR OF BIRTH | DIVISION |
| --- | --- |
| 2002 | 19U |
| 2003 | 18U |
| 2004 | 17U |
| 2005 | 16U |
| 2006 | 15U |
| 2007 | 14U |
| 2008 | 13U |
| 2009 | 12U |
| 2010 | 11U |
This age guide is for games that begin on or after August 1, 2020 (teams formed in May 2020).