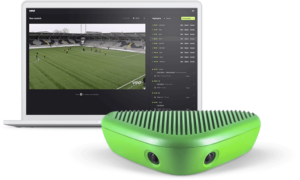 MDSA have a VEO video camera available for teams to record games.  The Veo technology records the entire field and follows the ball to provide a complete game, after processing the system will automatically recognize goals and other highlights.  The camera will record approximately 5 hours of games on a full battery and empty storage.
The camera can handle all size games 7v7, 9v9 and 11v11.  The camera is easy to set up and games are ready for viewing typically within 24-36 hours.  If you need help please text/call Pete Laverick on 925-276-3911.
How to request the camera:
Preference will always be given to MDSA home games where the camera can be used by multiple teams during the same day.
If there are no league games scheduled the camera can be requested for a tournament by a single team.
If multiple teams are playing at the same tournament please arrange between teams for multiple recordings.
Reserve the Veo Camera by completing this form
How to set up the camera:
Position the camera at the half way line about 4-5 yards back from the sideline.
Open the case and clip the Veo Camera to the pre-mounted bracket on the tripod.
Turn on the camera.
On your phone, connect to the wifi network VEOCAM13820 using the password on the camera
On your phone, go to a web browser and enter the address cam.veo.co
You should now see the camera display, make sure you can see all of the field.
Start recording from your phone (your phone does not have to stay connected for the camera to keep recording)
At the end of the game connect via your phone again, and stop recording.  If the camera is to be used again please make sure to power off the camera, the maximum battery life is about 7 hours.
The games need to be dowloaded by ethernet cable, you can do this at home or return the camera to Pete Laverick for processing.
Check out the new MDSA Youtube Channel to view game recordings.