How To Complete A GotSport Roster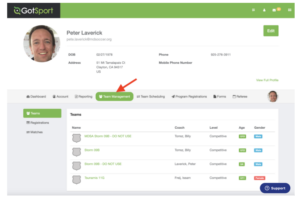 CalNorth Registration and Player Passes Season 2021-22
CalNorth is using the new GotSport system for rosters, player cards and registering for the upcoming Fall season. GotSport is the next generation of GotSoccer – but it is important to note it is not the same system.
Team Coach Steps
Click this link

https://system.gotsport.com/

to access GotSport login page. Login to your existing account which we have now linked to your team account using your email.

Do not log in to GotSoccer. Use the forgotten password link if you need to.

Click on the

Team Management

tab.

Click on the team you'd like to build a roster for.

In the resulting pop-up, click on the

Rosters

tab.

You will default to the "Player Pool" roster, which will display all the players you used in the recent spring season. You

do not

need to import from GotSoccer Classic.

From the dropdown select "Fall 2011 CCSL" and press Search.

Half way down the page on the right hand side, you can clone your existing roster, select your "2021/2022" roster and press submit. All existing player data will be imported.

Remove any players who are no longer on your roster by clicking on the red

X

to the right of the screen.

To add a player to your roster, click the

Add Player

button.
You will be asked to search for the player using the player's first name, last name,

and date of birth

.

If a player appears in the search, you can click the Select button to add the player to the team.

If a player is not found in the search, you can fill in the player's information (name, date of birth and contact email only) to add them.

Repeat this for each new player who needs to appear on the roster.

For new players you are required to add a photo (for the player card).

If a player appears in a search but is with another club

do not attempt to transfer

them. Simply add them as a new player.
All coaches, assistant coaches, and managers also need to be added to the team to appear on rosters and GotSport game cards. To add these individuals, click on the respective tab in the pop-up titled Coaches or Managers, and repeat the steps as you did for players.
If you have completed all of the steps above, and checked your roster, please email tracey.collins@mdsoccer.org and you will receive your pdf of player and coach cards within 72 hours. These can be used for tournaments.