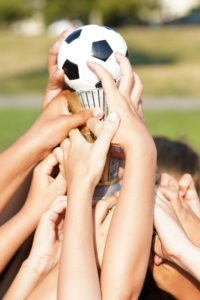 Mt. Diablo World Cup 2021
The 2021 Mt. Diablo World Cup is the post-season competitive tournament for all 10U-14U teams in the Mt. Diablo Soccer Association's Fall Program. 2021 World Cup games will take place on several weekends in October (see dates below).  Top 4 placing teams in each division all win medals.
The fun doesn't end there: top placing teams may then be invited to compete in the AYSO Area 2C Cup, and if successful there could move on to the AYSO Section 2 Cup and then even on to the AYSO Western Championships in Spring 2022.
2021 MDSA WORLD CUP DATES
Saturday, October 16
Saturday, October 23
Saturday, October 30 (QF)
Sunday, October 31 (SF/Finals)
2021 AREA 2C CUP
SCORE REPORTING
To register for score reporting text Remind:
For 10U Boys, text @mdwc10ub to 81010
For 10U Girls, text @mdwc10ug to 81010
For 12U Boys, text @mdwc12ub to 81010
For 12U Girls, text @mdwc12ug to 81010
For 14U Boys, text @mdwc14ub to 81010
For 14U Girls, text @mdwc14ug to 81010
All Fall teams enter the MDSA World Cup

Each team represents a World Cup Country

Group stage games and knockout games – just like the World Cup!

Guaranteed knockout game for every team (with enough referee points)

Guaranteed 3/4 playing time

Medals for top four placing team in each age division

Opportunity for winning teams to progress to AYSO Area Cup

Certified referees for all games, highly qualified officials for finals
Past MDSA World Cup Winners