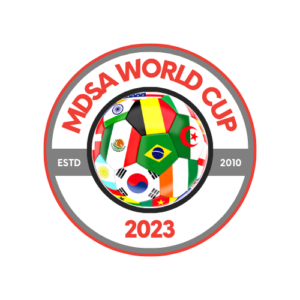 These rules are for the 2023 MDSA World Cup and may differ from previous years.
Notable rule updates for 2023:
All coaches and players are allowed on the field for a Penalty Shootout; in all age groups.
Re-seeding may occur if teams are disqualified from play due to lack of the required referee points.
1. PLAYER ELIGIBILITY
All players must have registered for and played during the current fall AYSO season and be listed on an official roster.
2. TEAMS & ROSTERS
Each player must play a minimum of 3 quarters of each game (unless the number of players prohibits this).
Division format:
| Age | Max Roster | Game | Minimum To Play Game |
| --- | --- | --- | --- |
| 10U | 10 | 7v7 | 5 |
| 12U | 12 | 9v9 | 6 |
| 14U | 15 | 11v11 | 7 |
Only AYSO registered and approved coaches are allowed to coach from the Coaches Area, an area ten yards from either side of the halfway line.
Opposing team coaches (plus parents and other associated spectators) should be on different sides of the field where possible.
The home team chooses their side of the field.
If there is a conflict in the color of the uniforms, the home team changes jersey color or wear pinafores.
All teams must wear uniforms that meet Mt. Diablo Soccer requirements. Team members must wear a matching uniform consisting of a jersey, shorts, and socks. Uniform shall be properly marked with the AYSO logo. No uniform may bear a player's name, team name, league name, program name, or inappropriate sponsor name.
Players must wear shin guards that are covered by socks. Players cannot wear anything that is dangerous to themselves or other players.  Ear rings are strictly prohibited and taping of ear rings is unacceptable.
Team check-ins will be done 10-15 minutes before game time; referees will check off players from the game card.
Coaches must notify the referee when players are expected to arrive late or leave early.
It is the responsibility of the teams with the first and last game of the day to ensure equipment is set up or taken down.
COACH PARTICIPATION
Coaches must participate in positive coaching that instructs and encourages players during the games.
Negative or derogatory comments are not permitted and may result in a caution or dismissal of the coach.
Coaches are responsible for the actions of their players, parents and spectators.
Coaches must bring Game Cards for their team to each World Cup game. Preprinted game cards can be printed from inLeague: Team Rosters > Select Team > Select Roster Function "Official AYSO Line-Up Cards"
After each game, each coach must sign the appropriate game card and leave it with the referee. Each coach is responsible for reporting the score of their game (i.e. Germany 3 – Senegal 2; or France 1-Costa Rica 1 etc.) via the website.
REFEREES AND ASSISTANT REFEREES
Referees will be from teams not involved in the game being played when possible.
Referees must record on the official game card any incidents resulting in disciplinary action and email MDSA World Cup to report any disciplinary action.
At the end of each game referee should take a photo of the game card and leave the game card with the field marshal or in the field knack box.
DURATION OF GAMES
All pool play, elimination, and quarter-final games for all Divisions (10U, 12U, 14U):
· Five minute halftime break (plus a one minute running break between quarters for substitutions only).
Duration of halves:
| Division | Groups/Elim | Quarters | Semis & Final | Final |
| --- | --- | --- | --- | --- |
| 10U | 20 mins | 25 mins | 25 mins | 25 mins |
| 12U | 20 mins | 30 mins | 30 mins | 30 mins |
| 14U | 35 mins | n/a | n/a | n/a |
TOURNAMENT FORMAT & SCORING
Teams will be divided into groups, and play a number of round-robin games in their groups.
Seeding for the knockout games will be based on how teams fare in preliminary games.
Seedings may be adjusted to try to avoid rematches of group games in the knockout rounds.
Scoring

3 points: Win
3 points: Game forfeited by opponent
1 point: Draw (Tie)
0 points: Loss
1.5 points: Bye
-1 point: win by 8 or more goals
-2 points: not meeting minimum playing time requirements
-1 point: for each red card issued to a player or coach
0 points for both teams if a game cannot be played due to a lack of a referee
If there is a tie in points following group games, the following tiebreakers will be used in sequence until a winner is determined:
1. H2H Result between the two teams
2. Goal Difference (max +6 per game)
3. Goals Scored (max 6 per game)
5. Fewest Red Cards (players and coaches)
6. Tournament Director Coin Flip
DISCIPLINE
Any player or coach receiving a red card is suspended from the next game, including the final (championship) game.
The Tournament Director will review all red cards and may render additional discipline.
ELIMINATION ROUND ELIGIBILITY
Teams must accumulate a minimum of 16 referee points by the end of group play games in order to be eligible to proceed to knockout rounds.

Girls 10U teams will not be reseeded to account for teams who do not meet the points qualification.
Boys 10U, 12U and Girls 12U teams will be reseeded to account for teams who do not meet the points qualification, where a team does not have enough points the team in that group with the next-best finishing position will move up to the spot vacated by a team in that group.  For example if a team finishing in position C2 does not have enough ref points to qualify then those teams finishing in positions C3, C4 and C5 will all be promoted one spot.

Should there not be enough qualifying teams from a single group then the highest points finisher from all other groups may be promoted to a vacant knockout position.
ELIMINATION AND QUARTER FINAL GAME TIEBREAKER
Elimination and quarter final games that are tied at the end of regulation time are decided by a Penalty Shootout. Best of 5 penalty kicks will determine the winner. If still tied at the end of 5 penalty kicks, penalty kicks will continue with sudden death rounds until a winner is determined when a teams scores and the opposition doesn't score in the same round of penalty kicks.
SEMI-FINAL, FINAL & CONSOLATION GAME TIEBREAKER
Semi-final, final (championship) and consolation games that are tied at the end of regulation time will continue with 2 x 5 minutes periods of extra time. If the game is still tied at the end of extra time the game will be decided by kicks from the penalty mark.
PENALTY KICK RULES FOR ELIMINATION ROUNDS
If the score is tied at the end of regulation or extra time, the match proceeds to kicks from the mark. For the MDSA World Cup, there are some modifications to the FIFA  procedure: 
The coaches may choose their first 5 kickers from their entire roster, not just the players  who were on the field at the time regulation play (or extra time, if applicable) ended.  A player must have played in the match to be eligible. A player who was sent off during the match cannot take a kick.
A kicker may only take a 2nd kick after every eligible player on the roster (including  the goal keeper) has taken a kick.
A player who was removed from the match due to injury or a player who is injured  during the kicks from the mark cannot be forced to take a kick if they cannot do so. Once that player has declared that they cannot take a kick,  they cannot change their mind and decide to take a kick during a subsequent round.
Coaches from each team may remain in the center circle (or close to it) with all players.
A player who refuses to take a kick (due to fear, nerves, etc.) will have been deemed to have taken and missed a kick. A coach will be given reasonable time (not to exceed two minutes) to try and encourage the player to take the kick.
A coach may substitute for the keeper at any time during the kicks from the mark.  However, once a keeper has been changed, they may not be changed back to being goal keeper.
SUBSTITUTION OF PLAYERS
For Divisions 12U and 10U, substitutions are allowed only at quarter breaks or to replace an injured player. Free substitutions are allowed for 14U. All players must play at least 3 quarters unless injured or where rosters do not allow. During extra time, substitutions can only be made at the beginning of each period. Coaches should not use substitutions as a tactic to delay the match. If, in the opinion of the referee, a team is using substitutions to delay the match, the referee may allow for additional time and may caution the coach.
GAME FORFEITURE
If a team forfeits a game for any of the reasons listed below, the score of the game will be listed as a 3–0 victory for the opposing team.
Any team leaving the field during regulation play will forfeit the game, and the coach will be ejected, thus suspending them from the next game.
Failure of the team to be ready within 5 minutes of the kickoff time.
If a coach fails to play a player for at least 3 quarters (unless it is due to an injury reported to the referee or tournament committee) in any knockout game.
If a player or coach is determined to be ineligible for that game, or participates in a game when that player or coach is suspended.
If a team lacks a certified coach.
AWARDS
All players on 1st, 2nd, 3rd & 4th place teams receive medals 🏅.
PROTESTS AND GRIEVANCES
No protests of any kind will be allowed.
OTHER RULES
Any serious injury to a participant, or damage caused by a participant, must be reported to the Tournament Director or Field Marshal as soon as possible.
Coaches must carry AYSO Player Medical Release forms with them at all times.
Players shall not be allowed to participate with any type of hard cast or splint.
In the event of rainout, or postponement due to any other reason, games will be rescheduled for the next available date, if possible.
No air horns, blow horns or bells.
The Tournament Director will settle any issues not provided for elsewhere in these Rules and Procedures. Their decision is final.
AND FINALLY…
AYSO National rules will cover any situation not covered by the rules in this document. The Tournament Committee will have the final say on the interpretation and application of the rules. Always remember, "It's for the kids" ⚽️⚽️⚽️