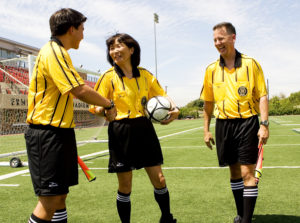 In order to ensure that all games are covered by trained referees, all teams at 10U and older are required to accumulate a minimum of 16 referee points by the end of World Cup pool play to compete in the elimination stages of the World Cup. 
Points are accumulated as follows: 
Center Referee (CR) – 2 pts 

Assistant Referee (AR) – 1 pt 
All referee points need to be earned in the same age division as the team or older. However, exceptions will be made for newly certified referees who wish to get some experience in matches one division younger during the first two weeks of the season, with a maximum of two games at that lower level. For newly certified referees in the 10U division, they can earn 1 pt for 8U or 7U matches at the CR position only, no points are available for the AR position below 10U. Game refereed  below the team's age division after the second week will not count towards the team's point totals. 
Every team is expected to have a minimum of two certified referee volunteers designated at the beginning of the season. These referees DO NOT necessarily have to be directly associated with the team (they do not have to be parents / grandparents / siblings), but the expectation is that the designated team referees will be available to ensure that there is referee coverage for their matches. 
Team referees are expected to referee their teams' games each weekend. Each team should provide a referee to fill at least 1 of the 3 available positions. Once World Cup pool play begins neutral referees will be the aim and referees will be asked not to work their team's games unless there are vacancies at game time. 
Point Sharing
It is the expectation that the bulk of a team's points will be earned and allocated from the designated team referees, but MDSA recognizes that circumstances can impact the ability of the designated team referees to work matches.
A limited level of point sharing, while discouraged, is allowed. Points from referees not designated as team referees cannot exceed 25% of the team's total points. 
Penalties
Teams that fail to reach the requisite number of points by the end of pool play in MDWC are not be allowed to proceed to elimination play. 
Bonus Points
Each newly certified referee is entitled to 2 bonus points upon working their first match as CR in the same age division as their team. Referees need to email refadmin@mdsoccer.org to claim this credit.
Earning/Crediting Points
Referees must be listed on the Volunteer Log to receive credit as a Team Referee.
Referees should sign up for games on MDSA fields in Ref Scheduler in inLeague, before or after the game. If you cover an Interplay game at an away field, contact refadmin@mdsoccer.org to receive your credit.
Allocate your points to your team. Under Referees (in InLeague)> Allocate Referee Points, assign the credit for each game you worked to the team to receive credit.