Becoming a Coach
Coaches are the heart of Mt. Diablo Soccer because as a coach you have the most contact with the kids during the season. Mt. Diablo Soccer appreciates your time, and will provide you with the training, advice, and whatever assistance you need to make your coaching experience a positive one. Coaching children is a very rewarding experience. And coaching your own child's team can be one of the most rewarding experiences of all! Coaches are pivotal to having children get the AYSO experience. If we don't have enough coaches, registration is scaled back and kids who want to play in AYSO are turned away.
Do you have little or no experience with soccer? No problem! AYSO will teach you, based on the age level you are coaching. Unique age-appropriate coach training is one of AYSO's specialties. If you plan to be at your child's soccer practices and games, you'll also have time to be your child's coach.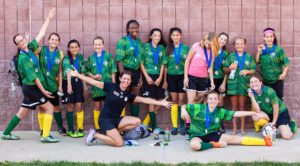 Reasons to coach
It's FUN.
It's a great break from work!
It makes you feel good.
It's a great way to put something back into the community.
Without coaches, our children don't play!
The rewards come in the form of watching the kids have fun at a game or practice, watching each player improve their soccer skills.  There is also a great sense of accomplishment when you reach the end of a season and look back and see how far each player has developed.
The AYSO Coaching Program is the only youth soccer program to be accredited by the National Council for Accreditation of Coaching Education. We will be with you every step of the way to help with training, practices and any resources you may need. Check out the Coach Resources below for more info.
COACH RESOURCES
For many important and useful Coach Resources, see our Coach Help Section.
COACH DUTIES & REQUIREMENTS
A safe, fun experience is our main priority for all children in AYSO. To coach with MDSA, there are a number of steps to complete to help us ensure a positive adventure for our players. If you have any questions, contact our Coach Administration Team.
REQUIREMENTS FOR ALL COACHES
As with all AYSO Volunteers, becoming a coach involves 3 easy steps:
Registration
One-Time Fingerprinting
Training
Certification
Step 1 – Register as a Volunteer with AYSO
** NEW** Step 2 – ONE-TIME Fingerprinting With Capital Live Scan
Step 3 – Complete Mandatory Safe Haven, Concussion Training and Sudden Cardiac Arrest Training Online
Step 4 – Complete the applicable age-appropriate official AYSO Coach Certification for the upcoming season
Step 5: Gather Team Paperwork
COACHING DUTIES