WHY BECOME A REFEREE?
Referees are critical to soccer – games can't be played without them. The referee's job is to be the official in charge of the game.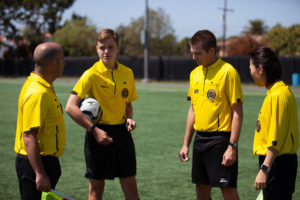 But why should you do it? While everyone is welcome, refereeing is  likely to appeal to you if you:
like being involved (you tend to get fidgety on the sidelines);
enjoy sports and/or wish you were playing
enjoy/need physical activity (refereeing is a great, light, regular workout);
don't have quite enough time, patience or soccer skills to be a coach.
If any of these describe you, you should give refereeing a try. MDSA will provide you with all the needed training, equipment and mentoring to be successful. When you do, you'll find out that it's fun! We also need volunteers – "no certified referee, no game"!
REFEREE DUTIES & REQUIREMENTS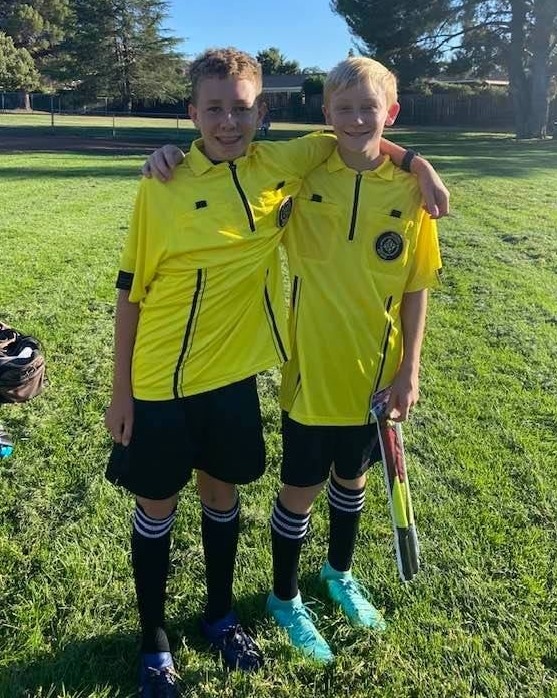 Mt. Diablo Soccer has a very clear philosophy – its games are to be played so that they are a safe, positive, enjoyable, growth experience for the children.
However, this is not achieved by adopting idiosyncratic or peculiar rules. Our games follow standard international soccer (FIFA) Law very closely, with only a very few changes to adapt to AYSO philosophy (e.g. controlled substitution to ensure that "everyone plays") and, at the youngest age levels, to adapt the game to the physical and mental maturity of the players.
HOW TO BECOME A REFEREE
REQUIREMENTS FOR ALL REFEREES
As with all AYSO Volunteers, becoming a referee involves 3 easy steps:
Volunteer Registration
Mandatory Volunteer Training
Referee Certification
Self-Assign games through inLeague
Step 1 – Register as a Volunteer with AYSO
Adult Volunteers
Youth Volunteers
Registration
– Complete current year registration in inLeague
(annual requirement)
– Select Referee volunteer role
– Parent must add Youth as a new
user on inLeague Account – with
unique email address
– Select Referee volunteer role
Background Check
– Once the Volunteer Application is submitted it will trigger a background check to Sterling Volunteers to complete the (AYSO National requirement)
– CHECK YOUR EMAIL FOR AN UPDATE FROM STERLING VOLUNTEERS. Follow the steps in this email to submit your Background Check.
– You will receive an email from Sterling Volunteers when your Background Check is complete, and you are eligible to volunteer.
– Background check must be completed annually
No background check is required until the volunteer reaches their 18th birthday
Step 2 – Complete Mandatory Volunteer Training
Step 3 – Complete the applicable age-appropriate official Referee Certification
Age Group
Certification Required
Course Options (AYSOU.org)
8U
8U Referee
Online – 8U Referee
10U
Regional Referee
Online – Regional Referee Course +
Online / In Person – Regional Referee Companion Course (Field session)
12U
Intermediate Referee
Intermediate Referee Course
14U
Advanced Referee
Advanced Referee Course
16U+
National Referee
National Referee Course
Click HERE to see our current course offerings or contact our Referee Admin Team for upcoming trainings or view Upcoming Courses in AYSOU.
Want to be an Elite Team Referee? You will need your USSF certification as well in order to receive payment for refereeing Elite CalNorth games:
Step 4 – Self-Assign on Game Schedule
Once all your required training is complete – the referee schedule should be available for self-assignment.  AND always bring your gear to the game as you will likely be asked to help out.