WHY BECOME A REFEREE?
We need you. We can't have games without referees. More importantly, it's rewarding and working with kids is great fun!
Referees are critical to soccer – the game can't be played without them. The referee's job is to be the official in charge of the game. They are the independent arbiter and manager of the game. Their authority extends to everyone at the field, including players, substitutes, team officials, spectators, and even assistant referees.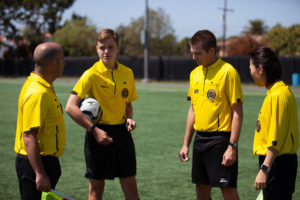 But why should you do it? While everyone is welcome, refereeing is especially likely to appeal to you if you like being involved (you tend to get fidgety on the sidelines); enjoy sports, even strange ones (you wish you were playing, instead of just your kids); enjoy (or need!) physical activity (reffing is a great, light, regular workout); don't have quite enough time, patience or soccer skills to be a coach. If any of these describe you, you should give refereeing a try.
When you do, you'll find out that it's fun! Especially at the younger age levels, refereeing is not particularly stressful.  Your role is to help the kids structure their game as soccer and, occasionally, to intervene to keep it fair.  Best of all, you get to be out on the field with the kids enjoying the game "up-close", while everyone else has to watch from the touch-lines.
REFEREE DUTIES & REQUIREMENTS
Mt. Diablo Soccer has a very clear philosophy – its games are to be played so that they are a safe, positive, enjoyable, growth experience for the children. However, this is not achieved by adopting idiosyncratic or peculiar rules. Our games follow standard international soccer (FIFA) Law very closely, with only a very few changes to adapt to AYSO philosophy (e.g. controlled substitution to ensure that "everyone plays") and, at the youngest age levels, to adapt the game to the physical and mental maturity of the players.
HOW TO BECOME A REFEREE
REQUIREMENTS FOR ALL REFEREES
As with all AYSO Volunteers, becoming a referee involves 3 easy steps:
Registration
Training
Certification
Step 1 – Register as a Volunteer with AYSO
Step 2 – Complete Mandatory Safe Haven, Concussion Training  and Sudden Cardiac Arrest Training Online
Step 3 – Complete the applicable age-appropriate official AYSO Referee Certification for the upcoming season
Step 4 – Self-Assign on Game Schedule