All volunteers (not just referees) are required to complete the following requirements:
Time
One Time Requirement
Yearly Requirement

Finger printing
Referee Training
AYSO Safe Haven
Sudden Cardiac Arrest training
CDC Concussion training (but may become yearly soon)

AYSO Background Check (via Sterling Volunteers)
Step 1 – Register as a Volunteer with AYSO
Adult Refs
Youth Refs
Registration

Complete current year registration in inLeague (annual requirement)
Select Referee Volunteer Role

Parents must add youth as a new user on their inLeague Account – with a unique email address
Select Referee volunteer role

Background Check

Once the Volunteer Application is submitted it will trigger a background check to Sterling Volunteers to complete
Check your email for a message from Sterling Volunteers.

Follow these steps to submit your Background Check.
You will receive an email from Sterling once your Background Check is complete.  Background checks must be completed annually.

No background check is required until the volunteer reaches their 18th birthday
Step 2 – Fingerprinting with Capital Live Scan (one-time only)
California AB 506 requires all adult volunteers who have direct contact with children to have a one-time fingerprint background check as approved by the California DOJ to exclude individuals with a history of child abuse.
Request a code to cover the cost of fingerprinting by emailing volunteer@mdsoccer.org
Make an appointment and get fingerprinted at a Live Scan Service Center: www.applicantservices.com/AYSO
This only needs to be done once unless there is a 5 year gap in volunteer service.
It is not transferable from another organization.
Step 3 – Complete Mandatory Volunteer Training
Sign in to your inLeague account and  select the "graduation cap" icon on the menu bar to login to eTrainU for your online training

Select Training Library Menu / Safe Haven (View Courses)

AYSO Safe Haven (outlines the important elements around protecting our children and volunteers)
CDC HEADS UP Concussion training
Sudden Cardiac Arrest training
Safesport training.  Your Safesport course can be accessed via inLeague – https://inleague.mdsoccer.org/app/eTrainU  (this is optional for U18s)
Step 4 – Complete the applicable age-appropriate official Referee Certification
We provide training options depending on the age group you want to referee, both online and in person (subject to current health guidelines). All class options will be found by logging into inleague / eTrainU / Training Library / Refereeing Courses.  Specific course names are listed below and you can search for in-person and virtual options.
Age Group
Certification Required
Course Options (eTrainU)
8U
8U Referee

8U Official Course – Online

or

8U Official – Full In Person Course 

10U & older (required)
Regional Referee

Regional Referee – Online + In-Person Companion Course.  (This is online + in person field session)

12U (Suggested)
Intermediate Referee
Intermediate Referee – In Person Course
14U (Suggested)
Advanced Referee
Advanced Referee Course – In Person Course
16U+ (Suggested)
National Referee
National Referee Course – In Person Course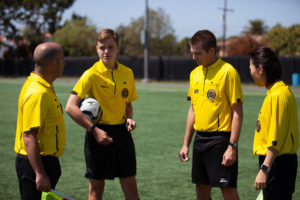 Contact our Ref Admin Team for any questions on what class may be best for you.  Once you have completed your training, we will provide you with the basic referee gear to get started:
8U referees will receive a shirt, whistle and 8U referee badge

Regional referees will receive a shirt, shorts, socks, whistle, flags, MDSA coin, referee wallet.

Achieving your Intermediate or above certification will earn you another referee shirt with your color preference!
Step 5 – Self-Assign on Game Schedule
For Fall, Spring and Select Program games: 

inLeague

 (someone from refadmin will approve the self-assignment).  
Want to be a USSF Referee as well?
You will need your USSF certification as well in order to referee USSF matches.  MDSA has partnered with Diablo Valley Futbol Club.  Please visit the DVFC Referee Section  for more details.