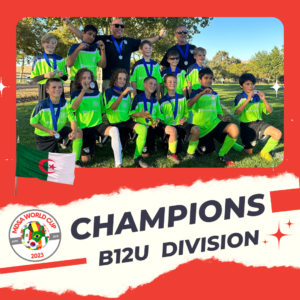 Congratulations to Algeria, led by coaches Jarrod Epps, who won the B12U World Cup.  In an expanded group stage all 7 teams in this division played each other with the top four progressing to the semi-finals.
Algeria won 4 of their 6 group games, losing only to Germany on the opening day of the tournament.  A defeat they would avenge in the final when they beat Germany coached by Annika Hayman, Josh Legaspi and Jin Li with the final's only goal of the game midway through the first half.  Algeria, despite missing two penalty kicks during the game couldn't shake off Germany but held on following a nail-biting finish.
Algeria had progressed to the final after beating Tunisia, coached by Jon Lien and Peter Maclennan 3-2 in a thrilling semi-final while Germany defeated Slovakia, coached by Mick Rognlien and Geoff Schieb.
| Position | Country | Head Coach |
| --- | --- | --- |
| Champions | Croatia | Joanna Murphy |
| Runners-Up | Netherlands | Courtney Wade |
| 3rd Place | Portugal | Peter Rafferty |
| 4th Place | Switzerland | Mike Steele |