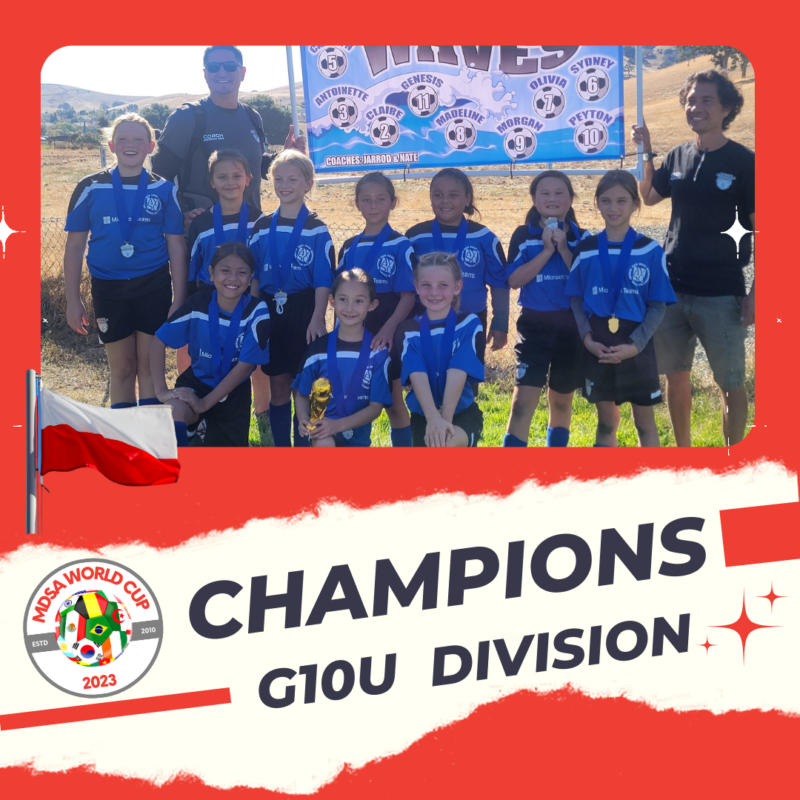 Congratulations to Poland, coached by Jarrod Heath and Nathan Mott, who won the 2023 G10U MDSA World Cup.
After losing their first game in the group stage Poland won 5 consecutive games culminating in beating Senegal, coached by Michael Wolfmuller and Mike Lauricella, 3-0 in the final in front of an unbelievably loud and enthusiastic crowd that could be heard from Ygnacio Valley Road!
The G10U division produced two thrilling semi-finals, both of which finished 3-2.  Champions Poland defeated Ghana, coached by Lanz Philip and Melinda Gentry, while Sengeal beat Sweden, who would go on to win the 3rd/4th play play-off, coached by Monica Johnson and Anna Kayser.
Poland and Senegal both progress to the Area Cup in two weeks time.  Good luck!
| Position | Country | Head Coach |
| --- | --- | --- |
| Champions | Poland | Jarrod Heath |
| Runners-Up | Senegal | Michael Wolfmuller |
| 3rd Place | Sweden | Monica Johnson |
| 4th Place | Ghana | Lancy Philip |