The MDSA BU10 Alliance Team Diablos had a successful weekend at the Comstock Shootout in Carson City, Nevada on April 29th. Led by Coach Chris Plumley and Coach Mike Vela, the team dominated their Silver Bracket, beating teams from Nevada, Tahoe, and Bishop.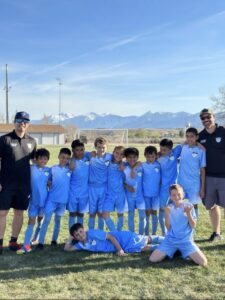 On Saturday, the Diablos won their first game 9-4 and their second game 14-1, taking a commanding lead in their 
bracket. The boys played hard, smart, and tactical, setting them up for success in their Sunday games.
The Diablos faced Sierra Surf in the morning, knowing the competition would be stiff. However, their hard work paid off, and they won the game 4-2. With this win, the Diablos secured their spot in the Championship Game against Bishop.
Bishop had an impressive run leading up to the final, shutting out their first two games on Saturday and only allowing two goals in their first game on Sunday. The Diablos knew they were in for their toughest game yet.
The game started off strong for the Diablos, with the team taking a 2-0 lead in the first 10 minutes. However, Bishop came back and led the game 3-2 . With only five minutes left in the game, the Diablos scored a crucial goal off a corner kick, and only two minutes later the Diablos scored off a fast break, putting them in front 4-3.
The Diablos held off Bishop for the last couple of minutes, winning the Comstock Shootout and taking home the first place for MDSA Alliance. The weekend was an exciting and fun experience for the boys, and their commitment and talent paid off.