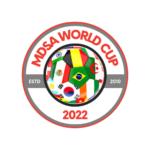 Thank you all for a great first weekend of the MDSA World Cup.  There were a lot of excited players, coaches and spectators and everyone seemed to be having a lot of fun.
This weekend we have the conclusion of pool games in the morning for 10U divisions and then a very quick turnaround for several eliminator games on the afternoon.  Things are less hectic in 12U divisions where all teams have one final pool game each.
A few important things to note for this weekend:
1. Don't forget to print a gamecard from inLeague for each game….print two in 10U divisions in case you have to go straight to an eliminator game.
2. Please enter your scores after the game on your phone – for 10U divisions we need results as soon as possible in order to complete the eliminator schedule.  I have moved all the eliminators back 30 minutes for some extra space.
3. Make sure to check the website schedule, and keep checking, some of the B10 games will not finish until 12:20pm and eliminators start at 2:30pm.  Do not check inleague as this will not be updated.
4. Unfortunately there are three 10U teams who will not be able to achieve the required ref points in order to play in the eliminators.  If you are scheduled to play one of these teams (they will be marked clearly on the schedule) you are free to use the field for extra practice and/or scrimmage if you wish to. We do not reseed based on these teams, their position in the schedule becomes a bye for their scheduled opponents.
5. Please continue to show respect to our referees.  For eliminator games we have experienced referees already signed up so there should hopefully be no team referees needed (but always ask refs to bring their uniform just in case).
6. Join the Coach Whatsapp Group; as soon as i know where teams are playing – I will add to this chat.
World Cup Useful Links:
 World Cup Home
 Schedule & Standings

 Enter Scores
 Tournament Rules
Good luck all!
Pete
Tournament Director
+1 925 276 3911